Home
Year 6 – Archived Sept 2021
Year 6 – Archived Sept 2021
Hello Year 6
We are all looking forward to seeing you on Wednesday 28th July. Below is a timetable with the timings for the day. Let's hope for good weather. For those of you that are going away, have a super time and Good Luck in your new school.
Love Mrs Pizl x
Y6 letter to parents
28.7.21.
The children performed really well today for their performance of 'The Wizard of Oz.' Well done everyone.
This is our end of year video. We hope you enjoy watching it.
Christmas 2020
Ah, the end of a term for you and the end of an era of me.
It's taken me a little while to work out quite what to say.
We've had a great couple of weeks. We have been dashing around the forest solving clues to find points, drawing fabulous Christmas art and more people have got their pen licences. We've made tree decorations, constructed calendars, watched a panto, finished our class novel (spoiler: Ma is Mrs Coverley!!!) and had a science week in the science lab room. In the middle of everything, we also had the most magical Christmas afternoon in the Winter Wonderland in the forest with gingerbread treats and a warm hot chocolate (and our Secret Santa) when we got back to class. I also realised that my wonderful Y6 have been sneaking behind my back and organising a most beautiful assembly that I will remember for the rest of my life.
Which brings me to the hard part.
Not only do we say a fond farewell to Charlie this week who we wish the very best for all he does, I also say goodbye (for now) to you. I have truly, truly enjoyed every second with you guys. You are smart, funny, courageous and totally crazy. You are kind, compassionate, hardworking and you surprise me every day. You have made me laugh till my sides have ached and smile till my face hurts. I never expected to leave you and I would've loved to have completed your Y6 journey with you but I've always told you that you must always reach for your dreams and since being a little girl, this is mine. Learn from this my chicks: you truly can be anything you want and you have the world ahead of you. I can't see pupils in front of me. I can see authors, footballers, scientists, artists, architects, film directors, actors and people who are going to change the world. I can see doctors, chefs, nurses, teachers, managers, entrepreneurs, inventors and so much more. I can see amazing things waiting for you as long as you are willing to work hard and dream big.
Look for the rainbows on a dark day, chase the stars and always eat the frog first!
And one more thing my amazing Y6s….. just remember, in this world you have to learn to BOUNCE.
I can't wait to hear about everything you do!
Stay safe, be good and keep smiling,
Miss S xx
ps) I have prepared a little video of your Christmas escapades. It just needs a little tweaking by the technicians to be posted on here. Keep watching.
14.12.20
As we are unable to have a Christmas Fayre this year, the children have made a christmas craft which you may like to purchase.
Year 6 have made Rustic Christmas Trees in keeping with our WWI theme. You can purchase your child's craft for £1
05.12.20
I think we all lost our MARBLES this week!
From dancing to a song about a Christmas hippopotamus, singing to an old Kylie and Jason number in spelling, to playing a mass game of peek-a-boo with the nursery children. We were definitely feeling the Christmas spirit. This week was our DT week and we made MARBLELOUS marble runs in groups. We found out about what makes a good structure with a timed task from Miss Brown, found out all about curves and corners of a marble run with Miss Quinn and constructed our amazing marble runs using a variety of joints with Miss Scriven. Mrs Pizl even dropped in to see us all doing our first time trial.
In maths, we have continued with fractions with adding and subtracting. In English, we continued Rose Blanche and wrote amazing Agony Aunt letters and replies to show we could change our narrative voice when writing. It is all getting rather exciting with the Victory Hall gang in our novel, Blitzed. George has made a worrying discovery about Rags that has got us thinking. Sadly though, we have found out that Shrapnel never made it by from the air raid 🙁 In PE, we tied in our activity with WWI and had to work in teams to carrying equipment across 'no man's land' over benches and other obstacles without touching the ground.
Your homework and spellings are on Showbie now as they were last week and we have all had another Showbie lesson in the computing room to become more familiar with the system. I have started adding guides to the HELP AT HOME folder to help with future homework tasks. Remember to press the DONE button when you finish your work to make sure it sends to me.
Stay safe, be good and keep smiling,
Miss S x
27.11.20
We have thrown ourselves into World War I this week. From exploring Lord Kitchener's suitcase at the start of the week to finding out about life in the trenches. Y6 have researched what started the war and which countries were involved. We have debated whether the countless deaths at Battle of the Somme were worth it and whether Lord Kitchener's Army was a good or bad thing. Using the computers, we have explored Lord Kitchener in a Showbie task and created our own World War I crossword puzzles to test our vocabulary definitions. We have finished off the week with fabulous written discussions or scripted debates. Gosh, I am so proud of Y6.
In maths, we are now deep into all things fractions and we have explored simplifying fractions, ordering fractions and placing fractions on a number line. In catch-up maths, we have explored coordinates and translations. Remember to keep using TTS Rockstars to keep your times tables tip top.
In other news, we were exercised within an inch of our lives by the Change for Life coaches, covered growth mindset in PHSCE, explored Jewish prayer in RE and continued to build our coding skills in computing.
TWO MORE pen licences: Maisie and Caiden, a Head teacher's certificate for Katie B and we won the attendance award AGAIN!!! That's another extra breaktime to take next week – whoop!
Remember to check Showbie for your spellings and to complete your 2wk topic homework by Friday.
Be safe, be good and keep smiling – I am so proud of you all,
Miss S x
PLEASE FIND INFORMATION BELOW FOR OUR BOOKFAIR
SHOWBIE USER GUIDE
HH – ASSASINATION OF ARCHDUKE FERDINAND
We've started to explore Judaism in RE and have looked at making good choices in PHSCE. In guided reading, George has met the Victory Hall gang and good old Ma! We can't wait to find out what happens next. To finish such a busy and hardworking week, we looked back at last term's guided reader and we watched the film adaptation of Skellig on Friday afternoon. Everyone had a different Mina in their head than the one on screen but it was great to see the book brought to life.
Homework and Spelling are now on Showbie – remember to let the school know if you can't access Showbie at home. This system will help reduce paper going back and forward and homework will not have to be isolated. We hope that by getting used to Showbie with homework, it will make things easier, should classes or individuals isolate.
Stay safe everyone, be good and keeping smiling!
Miss S x
Check out our new class booklet for AUTUMN 2
13.11.20
Ooh! George, the main character in our guiding reading text, is stuck in the past and is in a bomb shelter as an air raid is going on. I can't wait to see what will happen in the next chapter. Y6 have collected lots of evidence to help with comparison questions this week that have focused on George's changing attitude from the start of the novel to now. Well done everyone!
In English, we are using another war-time text, Rose Blanche, as our stimulus for some recount writing. Y6 have revised relative clauses this week to add information and have used them in a longer piece of writing. Our handwriting is improving so much that I am sure there will be more pen licences very soon.
In maths, we have covered factors, multiples, primes and have started to look at the order of operations using BODMAS. Y6 love playing our new game 'prime shoot' and it is getting very competitive. In Catch-Up maths, we have covered all things shape and space and have started to look at position this week. Using coordinates reminds us of finding 6-figure references in geography last week.
In other news, we have been doing brilliantly with our Reading Plus accounts and lots of certificates have gone out this week. In science, we have started to look at electricity. We have started our new WWI topic and have created gorgeous 'Black Out' poetry. The pupils have asked for these on the blog so they can show you…
On Thursday, we had a virtual author visit in school, Guy Bass. He was sooooo funny and made us laugh a lot!
Freddie received our Head Teacher's award this week for his outstanding attitude to work and school.
Homework this week links to reading and our new electricity topic in science. Make sure your answers are well presented.
Stay safe everyone, be good and keep smiling,
Miss S x
ps)
Spellings for this week ( I am super proud that our spelling scores are going up, up and up!).
06.11.20
Oooh! November…. so much closer to Chrimbo!
We closed our Mexico/Maya topic in style this week with a Day of the Dead themed day. We compared this celebration with Halloween, watched different representations of this festival on screen, made 3D sugar skulls, created Oaxaca style sawdust mats in Forest School and constructed Papel Picado style bunting to get in the Dias de los Muertas mood! We also had a Day of the Dead themed dinner.
In maths this week, we have revised long division from before the holidays and started looking at factors and common factors. In catch-up maths, we have revised multiplying and dividing by 10,100 and 1000 and have started looking at calculating angles. I am soooo impressed that Y6 have remembered soooo much from last term.
In English, Y6 finished our report unit by transforming our Maya reports from informal Horrible Histories reports aimed at children to formal museum leaflets aimed at adults. I am blown away by how Y6 tackled this change by varying their sentences, punctuation and by using a formal voice in their writing. Next week… we start a new text for English – I can't wait.
In guided reading, we began Blitzed (I wonder if we will love it as much as Skellig). George has already caused trouble by jumping over Miss Coverley's back fence and falling out with his mates. He is going back to Eden Camp in the next few chapters – all very exciting!
In other news, we have been doing really well in Reading Plus, tested our tummy muscles in PE and found out all about cenotes (sink holes) in geography. OPAL activities have opened up again at dinnertime and WE GOT THE FOREST FIRST!!!! It was brilliant to be back in.
We chose new School Council representatives: Caiden and Eva – well done you two!!!
Freddie got the Head Teacher's certificate for an outstanding attitude to work aaaaaaannnnnnnnnnnddd…….three people got the first pen licences: Madi, Megan and Ava. Well done girls!
As our Maya jungle comes down in class, a war is brewing. Be ready next week to jump into WWI with both feet.
Stay safe, be good and keep smiling,
Miss S xx
ps) Homework was maths and spellings are underneath. Remember, spelling test is every Friday now.
29.10.20 PE UPDATE – Our day for PE is even easier to remember now!! All PE days in Y6 will take place on a Tuesday until the Christmas break. I have changed this in the blog below too.
23.10.20
How did we get to the end of the first term already? Wow! That went soooo fast.
Thank you to all my Trainee Y6s this half term and for all the support at home with homework and our isolation.
This week, we have discussed which foodstuff was actually the most important to the Maya: chocolate or maize. We debated this using both sides of the argument. In art, we have finished our Frida Kahlo inspired masterpieces and have evaluated our brilliant work. Also, we had a go at using Mayan numbers – they were tricky as they base their number system on 1s, 20s and 400s. I'm glad we don't have to calculate using the Mayan number system!!!
Talking about calculation, we have thrown ourselves into long division now. It isn't as tricky as it sounds but it does take a bit of practice. In Catch-Up maths, we have been adding, subtracting and sequencing with decimals. We are truly becoming masters with decimals. Remember to keep going on TT Rockstars to keep your times table knowledge sharp. A few of you are creeping up the levels – well done!
Our Horrible Histories reports have come to a close and they have been very funny to read. They have also been chocker full of facts collected from your homework. We are definitely writing neater, constructing our sentences better and using a more varied vocabulary than in September. I am very impressed.
Finally, we say goodbye to our guided reading book, Skellig. So many of us have loved it and it has been great to hear from the pupils how interested some of our people at home have been about our book too! We finished this fabulous novel by constructing our own little origami owls for our Skellig reading display on Halloween day – they were all VERY cute! We also created Mexican sugar skulls to begin our geography unit with a bit of a spooky start.
I AM SO EXCITED for next term: there are lots of things to look forward to.
REMEMBER:
DAY OF THE DEAD 4th NOVEMBER (that's the first Wednesday back at school). It will be a themed day and you are welcome to dress up – if you don't want to, no worries, just turn up as usual. We will cover all things Mexico and Day of the Dead as we approach the end of our first Y6 topic.
(Pssst….we are studying World War I next !!!!)
PE is back on the timetable with a few tweaks to keep us all safe. On PE day, you will need to wear your trackies and trainers to school (see previous letter that went out) and stay in them all day. Our day is as follows:
TUESDAY
TUESDAY 17TH and 24th November will be led by Change 4 Life coaches.
Also, we will be starting to use our fabulous new Science Space on a rota when each class has their own science week.
(I am also excited to tell you that we have a cracking new book for our guided reading too – eeeeeeee!)
There is no homework for the half term holidays but here are the spellings for the first week back – in case you want a sneaky look before we start….
Have a super holiday everyone.
Stay safe, be good and keep smiling.
Miss S xx
16.10.20
Another Maya filled with this week…
On Tuesday morning, we were lucky enough to get a visit from a lovely lady from the museum. She brought in museum boxes that have been archived in the museum basement from an old Maya archaeological dig. Our job was to try to work out which class of Maya was buried at each site. Using our knowledge of feather length, cacao pods and Maya jobs, we employed historical enquiry skills to make a hypothesis for each box. We even got to sniff very old, but very real, cacao pods.
In English, we have been collecting lots of analysis from Horrible History books so we can write our own Horrible History style non-chronological report on the Maya next week. We were soooooo good at turning formal facts into informal 'Terry Deary' style facts. In Catch-up maths, we have been calculating with decimals and in Y6 Maths we have been pushing forward with long multiplication and short division. We have nearly finished our Frida Kahlo portraits and they are looking fantastic. Skellig is also getting rather interesting as we have now found out that Skellig has wings!!!!
Below are our spellings and our homework was to research horrible facts from history about the Maya for our English reports.
Well done to Finlay for winning the Head Teacher's award for his outstanding attitude to Boosters.
Stay safe, be good and keep smiling.
Miss S x
09.10.20
Ooh, ooh, ooh! First things first….
THE MAN IS THE GARAGE IS CALLED SKELLIG!!!!! At last we have found it out. Our guided reading novel is getting soooo exciting. Is Skellig an angel, a demon or some sort of strange birdman? We have explored lots of 'prove it' questions this week and have tracked the changes in Skellig throughout the book.
I am sooooo proud of my Year 6 trainees this week. They have written every day this week to build up to a five-part story. Each day, they have listened to advice given, improved their writing and shown lots of resilience. I am especially proud that they could work in partners to assess each other's writing and offer each other advice. It was a real proud teacher moment to see the class come to the end of their writing epic!
In Catch Up Maths it has been all about decimals – adding them, subtracting them and finding decimal complements to 1. In Year 6 maths, we have been adding, subtracting and problem solving with numbers with five or more digits – phew!
In art, we have posed for our self-portraits shots in order to start our Frida Kahlo inspired artwork next week. In PHSCE, we have shared our worries on shiny pennies and created positive mantras. It has been Mayan-tastic in history and we have been finding all about Maya society. From slaves to rulers, we have been exploring them all. We also had a chocolatey-experience when we tried Maya hot chocolate. The recipe is attached underneath for all of you that have asked for the recipe of this spicy delicious treat. I made ours with water instead of milk if you want that option.
Letters went out this week to give a little forward planning for our DAY OF THE DEAD day. We will be having a Mexican themed day on the 4th November with a Mexican themed lunch for those that want a school dinner that day, Day of the Dead activities and a few other experiences to help us enjoy the day. Feel free to dress up (or not) on the day to get really into the swing of things.
Well done to Madi for getting the weekly Head Teacher's certificate for brilliant questioning in Guided Reading.
It's the second week of the Maya homework challenge – it has been fab to see our first two projects come in already. Thank you!
Find our spellings for the week underneath.
Stay safe, be good and keep smiling.
Miss S x
02.10.10
Brrr! It's a chilly start to October but in Y6 we are learning about hot and sunny Mexico and the Maya people who lived there in the past.
We finished our amazing Pok-A-Tok instructions this week in history and now we have moved on to Maya beliefs and the gods that they worshipped. We wrote brilliant factfiles for the museum and had a go at drawing some of these strange looking deities.
We are all curious to finally find out WHO THE MAN IN THE GARAGE IS!!!!! Our Skellig book is offering more questions than answers at the moment but I suppose that's the brilliant thing about this book: it keeps you guessing! We have all been answering lots of different questions and completing activities on what words the author chooses, why and the effect when he does.
In our Y6 maths lessons, we have been exploring rounding numbers of any size and solving problems with negative numbers. We have attacked magic squares, addition pyramids and reasoning problems. In our catch-up maths lessons, we have been rounding decimals, exploring thousandths and discovering how to represent percentages. I am so pleased with the Y6 'can do' attitude.
I love the sound of some of the ideas for our own Water Tower inspired stories. We have used bubble planning, character profiles and background notes to start developing our narrative chapter stories. I can't wait to see who can make a shiver meander up my spine next week with their mystery writing….
Alongside looking at positive emotions and actions in PHSCE and analogous colours in art this week, we also had some firsts. For the first time, we tried our new Reading Programme in the computing suite, Reading Plus, that Y6 are lucky enough to trial for the next two months! Also, we got together for our first class bubble assembly with Mrs Pizl AND we found out who was voted by the pupils of the school to be Head Boy, Head Girl and their Deputies.
Well done Isabella and Maisie. Well done Corey and Jaime.
We know you are going to make a great team!
Ruby was chosen to receive the first Y6 Head Teacher's Award – well deserved for her excellent writing and brilliant attitude to work.
A final word about how proud I am of the class with the new effort they are channelling in the Golden Mile run each afternoon. It is so important to be healthy and active, especially in these times of Covid, so it was wonderful to see so many Y6 trainees improving their running quite significantly. Many of us can run four laps of the field now without stopping – when we started, many of us had to stop seven or eight times. If we keep this going, we will be running two and a half miles a week – which is fabulous!
Homework this week is our termly topic research challenge.
Also, these are this week's spellings for the coming week:
Stay safe, be good and keep smiling,
Miss S x
25.09.20
An isolation, a few NFER tests and a couple of tweaks to the timetable and we are off and running!!
It has been so nice to have a full week in Year 6 together and we have crammed in so much.
In guided reading, we have been reading the book Skellig….we all have our ideas about who the man in the garage might be and we have now met the super confident Mina. We've answered lots of questions about these characters, made some fab predictions and have tried really hard to answer three-point questions.
In English, we have been reading the mysterious WaterTower graphic novel. What exactly happened to Bubba? We are still not sure but he has definitely changed… Along the way, we have revised fronted adverbials, direct speech punctuation and have written a superb letter to the authorities to investigate the happenings at Preston Hill. I am so impressed with the effort people have showed this week in this subject 🙂
In Catch-Up Maths, we have been looking at representing tenths, hundredths and thousandths as a fraction and as decimals. In our Maths lessons, we have looked at place value and rounding. We have explored different ways of looking at these areas through lots of different styles of problems. We have our TT Rockstars chart in class nearly running too and I can't wait to see how we all get on.
In other news, I am so impressed with how well we are all coping with the Golden Mile run each day – less and less people are stopping and our fitness is definitely improving. I was so proud of everyone finishing the final maths tests this week to help us to work out what everyone needs to be learning – you were all brilliant. We have started finding out about the Ancient Maya Civilisation in history. We've looked at where the Maya would've lived on modern day maps, written museum fact files, explored the Mayan game of Pok-A-Tok (including sacrificing Sonny due to his outstanding goal in a quick demonstration game) and then we have starting writing amazing instructions so that other people can play the game too. We will finish these instructions on Monday but the ones I have seen so far are brilliant!
Using songs, drama, mnemonics and memory palaces, we have also been working hard each day on our spellings. We have also shared our worries in PHSCE, which is really important in the strange times we find ourselves in, and we've looked at different paintings by Frida Kahlo in art.
Phew! The Year 6 Trainees must be exhausted this week.
I hope you all have a lovely weekend and can't wait to get going again next week on all things Mexican and Mayan.
Homework given out tonight was based on revision of rounding to make sure we totally secure this objective and the spellings for this week coming are below. This week are words that sound the same or similar but have different meanings. Keep the reading books coming in each day – we managed to read with everyone this week with help from Miss Harrison and Mrs Pizl along the way. Mrs Pizl herself said how proud she was to see so many Home Readers coming in each day and will keep popping in to read with Y6 pupils. Remember that yellow home reader books need regular signing at home – especially if a book needs to be changed.
Stay safe, be good and keep smiling,
Miss S and the Y6 Team
x
Additional: Monday 21st October 2020
Whoop!! We are finally back up…
Just to catch up with things, here are this week's spellings – we already have covered ways of remembering the first two today 🙂
ps) It was so nice to see you all today.
HOT OFF THE PRESS!!!!! Look at what some of our pupils have been doing during Isolation using ideas from the blog…..
Friday 18th September 2020
This is hopefully our last day of Home Learning today before I get all you lovely Y6 Trainees back on Monday. Eeeeee!
I could not believe it yesterday when I saw EVEN MORE people completing online tasks and work! I have been hearing about pupils working together using Facetime; mums, dads and carers getting stuck in; grandmas and grandads helping out with vital knowledge, knowhow and experiences; pupils using Sum Dog, Purple Mash and all the links from the Y6 blog! It has been a huge team effort and I would like to thank everyone at home from the bottom of my heart for helping to support our Y6 learning at this crazy time – I know it isn't easy balancing everything at home alongside becoming mini-schools.
So, let's get this show on the road…
Purple Mash
Yup, you got it: spelling, grammar and a few other activities to keep you all busy. I so enjoyed your work yesterday and laughed very loudly after school when I was marking some of your storybook work. I think I found a winning story though that made me laugh the loudest…..to be revealed Monday. Today's English task on PM is a choice – either do the Popstar Profile or the Footballer profile – there is no need to do both (I just thought you might like the choice).
English
If you have been keeping up with our Oak Academy lessons, you will know we will be writing the final part of our explanation today.
https://classroom.thenational.academy/lessons/to-write-the-second-section-of-an-explanation-text-68wkcr
Maths
There is an alternative work option underneath if you aren't quite ready for this step.
Alternative Work if you are getting in a tangle with negative numbers.
Reading
A little history…a little reading. Choose the level that you think gives the best challenge to you. Easiest to hardest is marked by 1 star (easiest) to 3 stars(hardest) – you DO NOT have to do all three. Answers are attached underneath.
A little something different…
CHOOSE A CHALLENGE DAY
ART CHALLENGE
Some of you have loved doing art projects so here are some ideas that you might have things in the house for without having to leave (some might make the weekend go a little faster too).
OR
GEOGRAPHY CHALLENGE
One of your lovely mums gave me a great idea when she was talking to me about a map activity they had done at home. This got me thinking about a challenge a teacher gave me when I was at school…
Try to name a country for every letter of the alphabet – see how many you can get first and then, when you have exhausted your brains, you can use a map or similar. DON'T just google the answer!!!!!
OR
DT CHALLENGE
Make a maze. IDEAS: Use a shoe box and cut the lid up to make the maze walls in the bottom of the deep part of the box OR use pencils lying on their side and roll a frozen pea round them OR your people at home might let you use their cushions off the sofa and you could try to get a grown-up through the maze blindfolded OR like the picture below, use a bit of lego and a marble. Think outside the box….what type of maze could you create?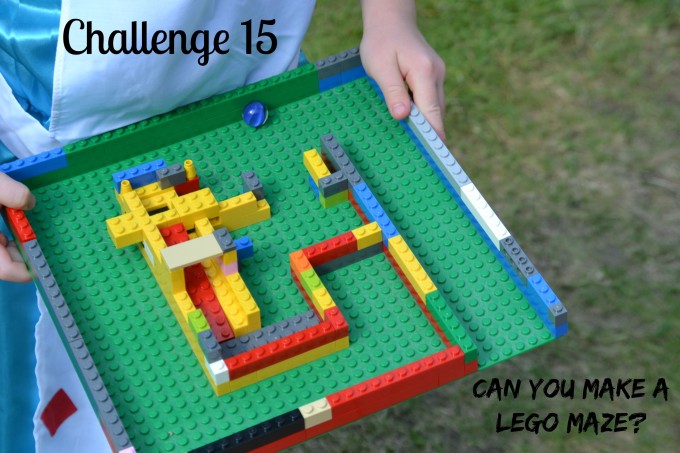 Stay safe, be good and keep smiling,
Miss S x
Thursday 17th September 2020
Hey ho!
Well, I have been sharing some of the wonderful things you have all been doing at home with the others teachers and they have been blown away by what you are doing. Keep going – just today and tomorrow left before you return on Monday – YAY!
Here we go..
On Purple Mash, we have a combined English and computing task. I have set the Story Creator in your 'To Dos'. Create a story that will make me laugh! (It has to make sense though). The one that makes me smile the most, gets a little prize on Monday!!!
English
Ooh! The next bit of your explanation……
https://classroom.thenational.academy/lessons/to-write-the-first-section-of-an-explanation-text-64rkee
Maths
In Yr 6, we start doing problems associated with negative numbers. Look at the first link for the first of two lessons on negative numbers. If you need a refresher, look at the second set of resources instead.
NO VIDEO LINK
For our little something different….
A little bit of Maya work and reading comprehension combined…
Now, try drawing what you think the Gods 'Tepeu the Maker' and 'Gucumatz the Feathered Spirit' looked like. Here are some examples of Mayan gods….
Stay safe, be good and keep smiling.
Miss S x
Wednesday 16th September 2020
Hello my little superstars,
Wow! even MORE of you logged on yesterday – it was great to look at all of your work. It's the hump day and we haven't long till the end of isolation. Keep going guys – you are nearly there!
Let's get going…
Purple Mash
Log on for your daily bite of spelling and grammar and then try our Purple Mash writing challenge today, which is a rather snazzy travel brochure. The last coding challenge of the week is in your 'To Dos'…. On Thursday, I have something a little different for you in computing and English.
English
We will hop skip and jump to starting to write the introduction to our bee explanation…
https://classroom.thenational.academy/lessons/to-write-the-introduction-to-an-explanation-text-cct68r
Reading
Find out about the humble potato!!!!
Maths
In Y6, we should be able to round any number to various degrees of accuracy – try the first link to cover this. If you still feel like you need a bit more practice at rounding, try the second challenge.
A little something different…
If you have the things around the house, try one of these science investigations…
If you have a go (and if the people at home have time) why not send a picture of the experiment you do and send it to Fatfield email OR attach it to an email on Purple Mash.
Happy investigating,
Keep safe, be good and keep smiling,
Miss S x
HOT OFF THE PRESS
Freddie decided that the man in the garage from Thursday's challenge looks a little bit like this….
I love the cobweb details that you have all been putting on your pictures of the man from Skellig.
Tuesday 15th September 2020
Good morning my little trainees,
Well, you just all keep blowing my socks off. I actually got a little giddy and then a little weepy at just how hard you are all trying to complete work at home and just how many of you are logging on and joining in. I can't believe that I can be so proud of a class that I have only taught for a week!
Let me see what I have for you today…..
Purple Mash
The usual spelling and grammar games have been added to keep you ticking over. Due to popular demand and feedback in comments and from parents I have seen on the yard, I have included another coding challenge.
Lots of you have mentioned how much you have liked the Purple Mash writing challenges so I have put another little challenge in your 'To Do' box. This time, you will be designing an APP and then trying to persuade people how great it is!!
English
The next part of our buzzzzzzzzzzzzzzzzzzy bee explanation…
https://classroom.thenational.academy/lessons/to-develop-a-rich-understanding-of-words-associated-with-trying-hard-cdk66r
Also, if you are missing stretching your reading brain, try this reading challenge on wolves. I will use 'Testbase' in class and for Spring Revision so this is a chance to get used to using this program. Use the tabs on the top of the screen to view the answers to check your work.
Maths
Our White Rose Maths quest continues….
In Y6, pupils should be able to round any number to the nearest 10, 100 or 1000. However, if your rounding skills are a bit rusty from not being used in a while, try the work underneath and revise how to round to the nearest 10.
A little something different…
As we found out in art, Frida Kahlo (the Mexican painter we are studying) was often depicted in her own self-portraits with monkeys…
Why not try making one of your own monkeys using one of the ideas below. Underneath the swinging monkey, I have added a hyperlink to a helpful video.
Take care, be good and keep smiling.
Miss S x
HOT OFF THE PRESS!
Look at these fabulous owls from Joseph that he completed as part of our Monday origami activity…. AND another great representation of the man in the garage from Finlay!!
Monday 14th September 2020
Good morning all!
Firstly, I am blown away by how many people completed work on Friday – I can see you are eager to become full-blown Y6 pupils rather than just my Y6 trainees! 🙂
I discovered something rather swish on Purple Mash last week: I can now give Purple Mash awards (I have given some out already). So whether you have tried really hard, worked like a Trojan, edited a piece of work to make it even better or simply knocked my socks off with your imagination, there are plenty of ways to gain a Purple Mash award. Keep your eyes peeled to see if one appears on your account.
On Purple Mash today are spelling and grammar games. I have also assigned a new English writing task to keep you busy with a little video to start you off. It is all about reporting on …. an empty school!!! Oooohhhh! Lots of you enjoyed the coding task on Friday so I've also included another one if you fancy having a go.
ENGLISH
If Purple Mash isn't your thing and/or to keep your English going, I have included links to two lessons building up to our explanation on bees. They are really short compared to the one on Friday, so I have included two so hopefully we can complete the whole sequence by the end of the week. It was super to hear how many of you tried these lessons last week. If you only have time to do one – use the second link.
https://classroom.thenational.academy/lessons/to-explore-using-apostrophes-for-plural-possession-cgvk2d
https://classroom.thenational.academy/lessons/to-understand-and-sequence-how-bees-make-honey-cgwk2c
MATHS
In Y6 maths, we should be able to compare numbers up to 10 million using more than and less than symbols. I have included work at this level and the same style of work with smaller digits underneath – just in case you find it a little tricky. Like on Friday, I'll include a video link, questions and the answers so you can see how well you are doing.
Y6-Autumn-Block-1-D2-Compare-and-order-any-numbers-2019DownloadY6-Autumn-Block-1-ANS2-Compare-and-order-any-numbersDownload
Alternative Option if you get a little stuck.
Alternative-Work-1-D9-Compare-4-digit-numbers-2019DownloadANS9-Compare-4-digit-numbersDownload
A little something different….?
You may have already picked up that our Skellig book has links to feathers and birds like owls and pigeons. We saw this on the covers we explored and we've already seen the birds that Dad found and showed Michael.
Have a go at making this simple origami owl. Click on the picture for the link to the instruction videos and scroll down. I'd love to see if any of you manage it – send your pics to the blog or via the school email (FAO: Miss S) if you can. Don't worry if you don't – I know people at home will be juggling a lot of things at the moment. Enjoy – I loved making my little feathery fella!
I am preparing a pack tomorrow that parents/carers can pick up – make sure it is not someone who should be isolating. If you do not have access to a computer or don't have a printer to print some of the sheets ( the maths for example) then I have included copies that can be written on and I'll include some lined paper too for the English tasks. Please do not turn up for the packs until a text is sent out for you to come to the school. I have kept the packs as close to the work I am providing online as possible so that pupils receive the same work while we are away from school (of course with online work, there is video support). Therefore, if you are already working online and coping well, there is no need to come to get a pack but the option is there.
Can't wait to see what all you lovelies produce this week!
Stay safe, be good and keep smiling,
Miss S x
HOT OFF THE PRESS!
Look at these fabulous representations of what these pupils thought the man in the garage looked like in Skellig from our Thursday challenge!
Joseph, Katie and Ruby thought carefully about what he might look like using information from the book. What do you think he looks like?
Well, as more of your pictures flood in, Eva, Isabella and Lexi think he might look a little like this….
Oh, I just can't wait to get going again with our novel. I will try to think of some tricksy ways to keep our Skellig work going without going too far so that we all can enjoy this book together when we return to school.
Friday 11th September 2020
Good Morning!
For all those who are getting on the Y6 steam train of learning today, here we go!
Purple Mash (good if you haven't got a printer but still want to do learning).
Look on Purple Mash and go to your 'To Do's'. You'll find quizzes for spelling and grammar that I will update on each school day. I've also planned a little writing task about aliens.
For something a little bit different, I have also included a computing challenge for you to try. If you need a little help, look at the same challenge in the lower category.
English
I have taken a little inspiration from our own Miss Wrintmore's epic battle with a bee this week. Let's have a little go over the next few weeks to build up our own explanation about bees. Here's lesson one:
https://classroom.thenational.academy/lessons/to-identify-the-features-of-an-explanation-text-6tgk2r
Remember, there's a writing activity on Purple Mash if you aren't ready for a full English lesson at home yet.
Maths
We have been looking at place value this week so I would like you to continue looking at this. In Year 6, we look at numbers to 10 million but if you are not feeling as confident at home, I have included number work with fewer digits to practice the same skills. To help, I've included a little video, some questions that you could dip into and the answers so you know you are on the right track.
Y6-Autumn-Block-1-D1-Numbers-to-10-million-2019DownloadY6-Autumn-Block-1-ANS1-Numbers-to-10-millionDownload
Y5-Autumn-Block-1-ANS1-Numbers-to-10000DownloadY5-Autumn-Block-1-D1-Numbers-to-10000-2019Download
Remember, if you don't have lots of time, you could go on Times Tables Rockstars to practice your multiplication.
A little something different…. why not have a little go at making yourself a little book to write your thoughts, football tactics or jokes in. These ones don't need glue to secure them.
Have a lovely weekend folks and I'll be here on Monday to suggest other activities you could do while you are not at school.
Stay safe,
Miss S X
Thursday 10th September 2020
Well Hello!!!
This is definitely not what we all expected in our first week together was it? Do you remember this week how I said that it was so important in Year Six that we learn how to 'bounce back ' so I can get you ready for the next amazing steps into comp and beyond…..?
Well, this is a fine example that we will get through together.
Not only as a Year Six, but just as someone living in the present moment, we have to be ready to adapt, to change, to go with the flow and take life as it comes.
I have just met you all this week and I want to be with you more than ever but, for now, let's see what we can do apart from each other. You are all pretty amazing so I am sure we can get through this little bobble in the road.
Firstly, some of the things we were going to do this week can't be done at home but I would really appreciate if you could try some of the things I am posting on this page so that, when we do return, we can fly through the challenges I have ready for you! With a little tweak, I am sure we can keep our learning going.
I will start posting activities for each day – a bit of English, a bit of maths, a bit of topic and a bit of something 'different'. These will be posted each morning so you can start when you want (or when the people at home say).
I am also going to start a Purple Mash Blog (active from tomorrow morning). You can use this to share ideas with friends, post a question to me or simply catch up. Any work handed in from Purple Mash, I will endeavour to mark the same day and give you feedback as I would in class. If you cannot remember your login, I will work closely with Mrs Young (our Computing Lead) to get these to you but lots of you used these last year during lockdown.
For the rest of today (as you have already been working so hard this morning) I have set a little 'something different' task.
I am so excited about our new book Skellig. PLEASE, PLEASE, PLEASE DON'T READ AHEAD but here is a little Skellig task to keep you busy while the grown-ups sort things out.
So far, we know Michael has moved into a new house. His baby sister has been born early and his parents are leaving him alone a lot. After exploring the garage, he has found a strange man/being who looks on the brink of life and death. You have already started thinking about who/what this could be and what action you would take if you were Michael. Using the following extract, draw a picture of what you think the man/being looks like when Michael sees him. You could use pen, pencils or felts. You could sculpt him out of playdough or something squishy round your house. You could even use '2D or 3D Paint' on a computer if you have access to one at home. I'd love to see some pictures of what you think he looks like – why not take a picture on a phone (ask an adult) and email it to the school (marked FAO Miss S) or upload to the blog. Here's the extract we have read together…
Extract from Skellig by David Almond
I finished the Coke, waited a minute, then I went down to the garage again. I didn't have time to dare myself or to stand there listening to the scratching. I switched the torch on, took a deep breath, and tiptoed straight inside.
Something little and black scuttled across the floor. The door creaked and cracked for a moment before it was still. Dust poured through the torch beam. Something scratched and scratched in a corner. I tiptoed further in and felt spider webs breaking on my brow. Everything was packed in tight — ancient furniture, kitchen units, rolled up carpets, pipes and crates and planks. I kept ducking down under the hosepipes and ropes and kitbags that hung from the roof. More cobwebs snapped on my clothes and skin. The floor was broken and crumbly.
I opened a cupboard an inch, shone the torch in and saw a million woodlice scattering away. I peered down into a great stone jar and saw the bones of some little animal that had died in there. Dead bluebottles were everywhere. There were ancient newspapers and magazines. I shone the torch on to one and saw that it came from nearly fifty years ago. I moved so carefully. I was scared every moment that the whole thing was going to collapse. There was dust clogging my throat and nose. I knew they'd be yelling for me soon and I knew I'd better get out. I leaned across a heap of tea chests and shone the torch into the space behind and that's when I saw him.
I thought he was dead. He was sitting with his legs stretched out, and his head tipped back against the wall. He was covered in dust and webs like everything else and his face was thin and pale. Dead bluebottles were scattered on his hair and shoulders. I shone the torch on his white face and his black suit. 'What do you want?' he said.
For now, stay positive. Help your people at home as they would not have been expecting this and will be needing to sort lots of things out at the moment. I know I was not expecting this so soon.
This is your first real challenge as a Year 6. It's just like I said about eating my broccoli at Sunday Lunch….get the yucky bit out of the way first and then enjoy the rest of your time. We will get over this bump and hopefully have the rest of Year 6 to enjoy!
I'll speak to you tomorrow on here and have lots of things for you to try at home.
Missing you already my lovely trainee Year 6s.
Miss S x
---