Year 6
Friday 18th September 2020
This is hopefully our last day of Home Learning today before I get all you lovely Y6 Trainees back on Monday. Eeeeee!
I could not believe it yesterday when I saw EVEN MORE people completing online tasks and work! I have been hearing about pupils working together using Facetime; mums, dads and carers getting stuck in; grandmas and grandads helping out with vital knowledge, knowhow and experiences; pupils using Sum Dog, Purple Mash and all the links from the Y6 blog! It has been a huge team effort and I would like to thank everyone at home from the bottom of my heart for helping to support our Y6 learning at this crazy time – I know it isn't easy balancing everything at home alongside becoming mini-schools.
So, let's get this show on the road…
Purple Mash
Yup, you got it: spelling, grammar and a few other activities to keep you all busy. I so enjoyed your work yesterday and laughed very loudly after school when I was marking some of your storybook work. I think I found a winning story though that made me laugh the loudest…..to be revealed Monday. Today's English task on PM is a choice – either do the Popstar Profile or the Footballer profile – there is no need to do both (I just thought you might like the choice).
English
If you have been keeping up with our Oak Academy lessons, you will know we will be writing the final part of our explanation today.
https://classroom.thenational.academy/lessons/to-write-the-second-section-of-an-explanation-text-68wkcr
Maths
There is an alternative work option underneath if you aren't quite ready for this step.
Alternative Work if you are getting in a tangle with negative numbers.
Reading
A little history…a little reading. Choose the level that you think gives the best challenge to you. Easiest to hardest is marked by 1 star (easiest) to 3 stars(hardest) – you DO NOT have to do all three. Answers are attached underneath.
A little something different…
CHOOSE A CHALLENGE DAY
ART CHALLENGE
Some of you have loved doing art projects so here are some ideas that you might have things in the house for without having to leave (some might make the weekend go a little faster too).
OR
GEOGRAPHY CHALLENGE
One of your lovely mums gave me a great idea when she was talking to me about a map activity they had done at home. This got me thinking about a challenge a teacher gave me when I was at school…
Try to name a country for every letter of the alphabet – see how many you can get first and then, when you have exhausted your brains, you can use a map or similar. DON'T just google the answer!!!!!
OR
DT CHALLENGE
Make a maze. IDEAS: Use a shoe box and cut the lid up to make the maze walls in the bottom of the deep part of the box OR use pencils lying on their side and roll a frozen pea round them OR your people at home might let you use their cushions off the sofa and you could try to get a grown-up through the maze blindfolded OR like the picture below, use a bit of lego and a marble. Think outside the box….what type of maze could you create?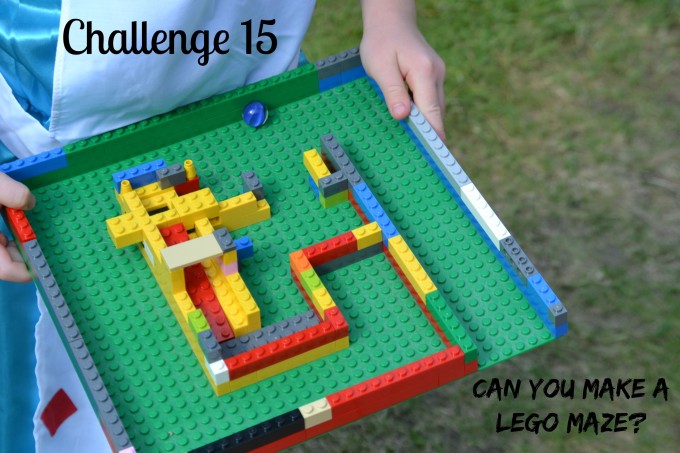 Stay safe, be good and keep smiling,
Miss S x
Thursday 17th September 2020
Hey ho!
Well, I have been sharing some of the wonderful things you have all been doing at home with the others teachers and they have been blown away by what you are doing. Keep going – just today and tomorrow left before you return on Monday – YAY!
Here we go..
On Purple Mash, we have a combined English and computing task. I have set the Story Creator in your 'To Dos'. Create a story that will make me laugh! (It has to make sense though). The one that makes me smile the most, gets a little prize on Monday!!!
English
Ooh! The next bit of your explanation……
https://classroom.thenational.academy/lessons/to-write-the-first-section-of-an-explanation-text-64rkee
Maths
In Yr 6, we start doing problems associated with negative numbers. Look at the first link for the first of two lessons on negative numbers. If you need a refresher, look at the second set of resources instead.
NO VIDEO LINK
For our little something different….
A little bit of Maya work and reading comprehension combined…
Now, try drawing what you think the Gods 'Tepeu the Maker' and 'Gucumatz the Feathered Spirit' looked like. Here are some examples of Mayan gods….
Stay safe, be good and keep smiling.
Miss S x
Wednesday 16th September 2020
Hello my little superstars,
Wow! even MORE of you logged on yesterday – it was great to look at all of your work. It's the hump day and we haven't long till the end of isolation. Keep going guys – you are nearly there!
Let's get going…
Purple Mash
Log on for your daily bite of spelling and grammar and then try our Purple Mash writing challenge today, which is a rather snazzy travel brochure. The last coding challenge of the week is in your 'To Dos'…. On Thursday, I have something a little different for you in computing and English.
English
We will hop skip and jump to starting to write the introduction to our bee explanation…
https://classroom.thenational.academy/lessons/to-write-the-introduction-to-an-explanation-text-cct68r
Reading
Find out about the humble potato!!!!
Maths
In Y6, we should be able to round any number to various degrees of accuracy – try the first link to cover this. If you still feel like you need a bit more practice at rounding, try the second challenge.
A little something different…
If you have the things around the house, try one of these science investigations…
If you have a go (and if the people at home have time) why not send a picture of the experiment you do and send it to Fatfield email OR attach it to an email on Purple Mash.
Happy investigating,
Keep safe, be good and keep smiling,
Miss S x
HOT OFF THE PRESS
Freddie decided that the man in the garage from Thursday's challenge looks a little bit like this….
I love the cobweb details that you have all been putting on your pictures of the man from Skellig.
Tuesday 15th September 2020
Good morning my little trainees,
Well, you just all keep blowing my socks off. I actually got a little giddy and then a little weepy at just how hard you are all trying to complete work at home and just how many of you are logging on and joining in. I can't believe that I can be so proud of a class that I have only taught for a week!
Let me see what I have for you today…..
Purple Mash
The usual spelling and grammar games have been added to keep you ticking over. Due to popular demand and feedback in comments and from parents I have seen on the yard, I have included another coding challenge.
Lots of you have mentioned how much you have liked the Purple Mash writing challenges so I have put another little challenge in your 'To Do' box. This time, you will be designing an APP and then trying to persuade people how great it is!!
English
The next part of our buzzzzzzzzzzzzzzzzzzy bee explanation…
https://classroom.thenational.academy/lessons/to-develop-a-rich-understanding-of-words-associated-with-trying-hard-cdk66r
Also, if you are missing stretching your reading brain, try this reading challenge on wolves. I will use 'Testbase' in class and for Spring Revision so this is a chance to get used to using this program. Use the tabs on the top of the screen to view the answers to check your work.
Maths
Our White Rose Maths quest continues….
In Y6, pupils should be able to round any number to the nearest 10, 100 or 1000. However, if your rounding skills are a bit rusty from not being used in a while, try the work underneath and revise how to round to the nearest 10.
A little something different…
As we found out in art, Frida Kahlo (the Mexican painter we are studying) was often depicted in her own self-portraits with monkeys…
Why not try making one of your own monkeys using one of the ideas below. Underneath the swinging monkey, I have added a hyperlink to a helpful video.
Take care, be good and keep smiling.
Miss S x
HOT OFF THE PRESS!
Look at these fabulous owls from Joseph that he completed as part of our Monday origami activity…. AND another great representation of the man in the garage from Finlay!!
Monday 14th September 2020
Good morning all!
Firstly, I am blown away by how many people completed work on Friday – I can see you are eager to become full-blown Y6 pupils rather than just my Y6 trainees! 🙂
I discovered something rather swish on Purple Mash last week: I can now give Purple Mash awards (I have given some out already). So whether you have tried really hard, worked like a Trojan, edited a piece of work to make it even better or simply knocked my socks off with your imagination, there are plenty of ways to gain a Purple Mash award. Keep your eyes peeled to see if one appears on your account.
On Purple Mash today are spelling and grammar games. I have also assigned a new English writing task to keep you busy with a little video to start you off. It is all about reporting on …. an empty school!!! Oooohhhh! Lots of you enjoyed the coding task on Friday so I've also included another one if you fancy having a go.
ENGLISH
If Purple Mash isn't your thing and/or to keep your English going, I have included links to two lessons building up to our explanation on bees. They are really short compared to the one on Friday, so I have included two so hopefully we can complete the whole sequence by the end of the week. It was super to hear how many of you tried these lessons last week. If you only have time to do one – use the second link.
https://classroom.thenational.academy/lessons/to-explore-using-apostrophes-for-plural-possession-cgvk2d
https://classroom.thenational.academy/lessons/to-understand-and-sequence-how-bees-make-honey-cgwk2c
MATHS
In Y6 maths, we should be able to compare numbers up to 10 million using more than and less than symbols. I have included work at this level and the same style of work with smaller digits underneath – just in case you find it a little tricky. Like on Friday, I'll include a video link, questions and the answers so you can see how well you are doing.
Y6-Autumn-Block-1-D2-Compare-and-order-any-numbers-2019DownloadY6-Autumn-Block-1-ANS2-Compare-and-order-any-numbersDownload
Alternative Option if you get a little stuck.
Alternative-Work-1-D9-Compare-4-digit-numbers-2019DownloadANS9-Compare-4-digit-numbersDownload
A little something different….?
You may have already picked up that our Skellig book has links to feathers and birds like owls and pigeons. We saw this on the covers we explored and we've already seen the birds that Dad found and showed Michael.
Have a go at making this simple origami owl. Click on the picture for the link to the instruction videos and scroll down. I'd love to see if any of you manage it – send your pics to the blog or via the school email (FAO: Miss S) if you can. Don't worry if you don't – I know people at home will be juggling a lot of things at the moment. Enjoy – I loved making my little feathery fella!
I am preparing a pack tomorrow that parents/carers can pick up – make sure it is not someone who should be isolating. If you do not have access to a computer or don't have a printer to print some of the sheets ( the maths for example) then I have included copies that can be written on and I'll include some lined paper too for the English tasks. Please do not turn up for the packs until a text is sent out for you to come to the school. I have kept the packs as close to the work I am providing online as possible so that pupils receive the same work while we are away from school (of course with online work, there is video support). Therefore, if you are already working online and coping well, there is no need to come to get a pack but the option is there.
Can't wait to see what all you lovelies produce this week!
Stay safe, be good and keep smiling,
Miss S x
HOT OFF THE PRESS!
Look at these fabulous representations of what these pupils thought the man in the garage looked like in Skellig from our Thursday challenge!
Joseph, Katie and Ruby thought carefully about what he might look like using information from the book. What do you think he looks like?
Well, as more of your pictures flood in, Eva, Isabella and Lexi think he might look a little like this….
Oh, I just can't wait to get going again with our novel. I will try to think of some tricksy ways to keep our Skellig work going without going too far so that we all can enjoy this book together when we return to school.
Friday 11th September 2020
Good Morning!
For all those who are getting on the Y6 steam train of learning today, here we go!
Purple Mash (good if you haven't got a printer but still want to do learning).
Look on Purple Mash and go to your 'To Do's'. You'll find quizzes for spelling and grammar that I will update on each school day. I've also planned a little writing task about aliens.
For something a little bit different, I have also included a computing challenge for you to try. If you need a little help, look at the same challenge in the lower category.
English
I have taken a little inspiration from our own Miss Wrintmore's epic battle with a bee this week. Let's have a little go over the next few weeks to build up our own explanation about bees. Here's lesson one:
https://classroom.thenational.academy/lessons/to-identify-the-features-of-an-explanation-text-6tgk2r
Remember, there's a writing activity on Purple Mash if you aren't ready for a full English lesson at home yet.
Maths
We have been looking at place value this week so I would like you to continue looking at this. In Year 6, we look at numbers to 10 million but if you are not feeling as confident at home, I have included number work with fewer digits to practice the same skills. To help, I've included a little video, some questions that you could dip into and the answers so you know you are on the right track.
Y6-Autumn-Block-1-D1-Numbers-to-10-million-2019DownloadY6-Autumn-Block-1-ANS1-Numbers-to-10-millionDownload
Y5-Autumn-Block-1-ANS1-Numbers-to-10000DownloadY5-Autumn-Block-1-D1-Numbers-to-10000-2019Download
Remember, if you don't have lots of time, you could go on Times Tables Rockstars to practice your multiplication.
A little something different…. why not have a little go at making yourself a little book to write your thoughts, football tactics or jokes in. These ones don't need glue to secure them.
Have a lovely weekend folks and I'll be here on Monday to suggest other activities you could do while you are not at school.
Stay safe,
Miss S X
Thursday 10th September 2020
Well Hello!!!
This is definitely not what we all expected in our first week together was it? Do you remember this week how I said that it was so important in Year Six that we learn how to 'bounce back ' so I can get you ready for the next amazing steps into comp and beyond…..?
Well, this is a fine example that we will get through together.
Not only as a Year Six, but just as someone living in the present moment, we have to be ready to adapt, to change, to go with the flow and take life as it comes.
I have just met you all this week and I want to be with you more than ever but, for now, let's see what we can do apart from each other. You are all pretty amazing so I am sure we can get through this little bobble in the road.
Firstly, some of the things we were going to do this week can't be done at home but I would really appreciate if you could try some of the things I am posting on this page so that, when we do return, we can fly through the challenges I have ready for you! With a little tweak, I am sure we can keep our learning going.
I will start posting activities for each day – a bit of English, a bit of maths, a bit of topic and a bit of something 'different'. These will be posted each morning so you can start when you want (or when the people at home say).
I am also going to start a Purple Mash Blog (active from tomorrow morning). You can use this to share ideas with friends, post a question to me or simply catch up. Any work handed in from Purple Mash, I will endeavour to mark the same day and give you feedback as I would in class. If you cannot remember your login, I will work closely with Mrs Young (our Computing Lead) to get these to you but lots of you used these last year during lockdown.
For the rest of today (as you have already been working so hard this morning) I have set a little 'something different' task.
I am so excited about our new book Skellig. PLEASE, PLEASE, PLEASE DON'T READ AHEAD but here is a little Skellig task to keep you busy while the grown-ups sort things out.
So far, we know Michael has moved into a new house. His baby sister has been born early and his parents are leaving him alone a lot. After exploring the garage, he has found a strange man/being who looks on the brink of life and death. You have already started thinking about who/what this could be and what action you would take if you were Michael. Using the following extract, draw a picture of what you think the man/being looks like when Michael sees him. You could use pen, pencils or felts. You could sculpt him out of playdough or something squishy round your house. You could even use '2D or 3D Paint' on a computer if you have access to one at home. I'd love to see some pictures of what you think he looks like – why not take a picture on a phone (ask an adult) and email it to the school (marked FAO Miss S) or upload to the blog. Here's the extract we have read together…
Extract from Skellig by David Almond
I finished the Coke, waited a minute, then I went down to the garage again. I didn't have time to dare myself or to stand there listening to the scratching. I switched the torch on, took a deep breath, and tiptoed straight inside.
Something little and black scuttled across the floor. The door creaked and cracked for a moment before it was still. Dust poured through the torch beam. Something scratched and scratched in a corner. I tiptoed further in and felt spider webs breaking on my brow. Everything was packed in tight — ancient furniture, kitchen units, rolled up carpets, pipes and crates and planks. I kept ducking down under the hosepipes and ropes and kitbags that hung from the roof. More cobwebs snapped on my clothes and skin. The floor was broken and crumbly.
I opened a cupboard an inch, shone the torch in and saw a million woodlice scattering away. I peered down into a great stone jar and saw the bones of some little animal that had died in there. Dead bluebottles were everywhere. There were ancient newspapers and magazines. I shone the torch on to one and saw that it came from nearly fifty years ago. I moved so carefully. I was scared every moment that the whole thing was going to collapse. There was dust clogging my throat and nose. I knew they'd be yelling for me soon and I knew I'd better get out. I leaned across a heap of tea chests and shone the torch into the space behind and that's when I saw him.
I thought he was dead. He was sitting with his legs stretched out, and his head tipped back against the wall. He was covered in dust and webs like everything else and his face was thin and pale. Dead bluebottles were scattered on his hair and shoulders. I shone the torch on his white face and his black suit. 'What do you want?' he said.
For now, stay positive. Help your people at home as they would not have been expecting this and will be needing to sort lots of things out at the moment. I know I was not expecting this so soon.
This is your first real challenge as a Year 6. It's just like I said about eating my broccoli at Sunday Lunch….get the yucky bit out of the way first and then enjoy the rest of your time. We will get over this bump and hopefully have the rest of Year 6 to enjoy!
I'll speak to you tomorrow on here and have lots of things for you to try at home.
Missing you already my lovely trainee Year 6s.
Miss S x
---